The Leading Money Earning Working Horse Sires
Are they Foundation Bred?
(First Published in 2002)
According to Equi Stat, a division of Cowboy Publishing Group, the following 15 AQHA registered sires are the tops in their fields this year based on their offsprings' earnings compiled over the last five years. I know of no foundation breeders who seriously entertain the idea of breeding next year's NRHA or NCHA Champions, yet, do these elite `competition' stallions offer the foundation breeder a gene pool that will complement his/her breeding program? To answer this (at a time when ranch horse and foundation Quarter Horse seemed to be used interchangeably by those who aren't quite sure what the foundation "thing" is all about) it might be wise to look at what these top dollar stars have to offer us as foundation breeders.
It must be remembered that the only AQHA "show horses" really worth looking at as possibly complementing a foundation Quarter Horse breeding program would be in the working horse divisions. It still takes brains, athletic ability, and trainability to perform the feats of reining, cutting and working cowhorse. Which is why the foundation Quarter Horses last great stronghold as a show horse is still, to a certain extent as either a cutter, reiner or working cowhorse. Halter, pleasure, and race horses, generally are anywhere from 25 - 90% Thoroughbred.
First - You have to look at the foundation percentage on each horse. Bottom line is that the foals resulting from a cross on any of these bloodlines must meet minimum foundation registration requirements. Each stallions official foundation percentage is shown in the chart below. Many of us don't have the resources that it takes to breed to these sires so remember, if you are planning to breed to a son, allow for that stallion's dam's pedigree as being half of his total foundation percentage.
Second - Disposition and Correctness. It is hard to put this ahead of breed type, but as a conscientious breeder you should never forget that you are taking upon yourself the responsibility of deciding how sound and useful an animal will be for at least 20 years. Your knowledge as a breeder and thoughtfulness in making ethical breeding decisions will make the difference between an animal that is sane, healthy, and sound as opposed to a disaster that through no fault of it's own ends up in the "killer pen" at the local auction. Just because a sire is a World Champion and has foals who have earned millions in futurity purses, there is no guarantee that he, or his sons, do not possess conformation flaws that won't be detrimental to your breeding program. Or, as happens more frequently, a disposition that only a trainer could love or ride. Remember that most high dollar competitions involve young horses. Though you may want to breed a Quarter Horse that is sound and still working at the age of twenty a large group of people who breed strictly for competition could care less what happens to these horses past the `big money' years.
Third - Breed Type. Don't use a horse in your breeding program that doesn't look like a Quarter Horse. It shouldn't look like an Arab or a Thoroughbred. There are large international breed registries that handle both of those breeds. Size, height, type, disposition, muscling, correctness, secondary sex characteristics are all part of the type and look of a Foundation Quarter Horse.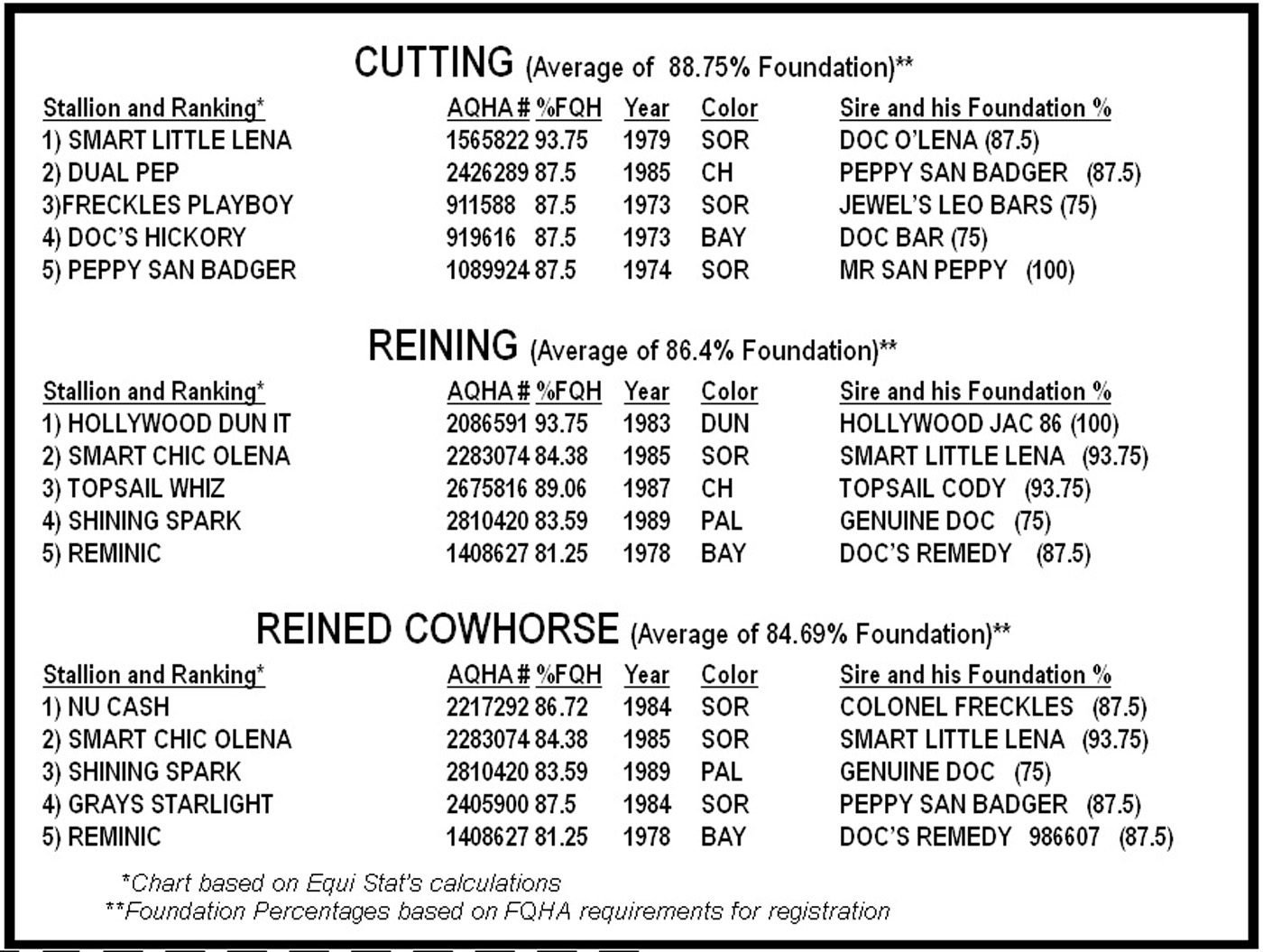 Fourth - Stick With The New Classics. Poco Bueno, King, Leo, Harlan, Jessie James, etc., need no introduction. But if you are looking for some new blood, remember that the all-around ability, great mind, classic conformation and performance ability that it takes to make a great reining horse almost insures that he will have a high percentage of foundation blood. How appropriate that Reining is the FIRST Western equine discipline which will be included in the Olympic games. Yet, the latest crop of sires do not have the 100% foundation blood that was common until just a couple of years ago. This is probably a reflection of the biggest problem with the entire show horse industry. . . performance accolades influenced by changing style and fashion rather than simply ability.
The NRHA Hall of Fame has inducted 9 Quarter Horse stallions (only counting those with offspring) since 1988, beginning with Continental King. The average foundation Quarter Horse blood percentage required for this distinct honor of being named to the NRHA Hall of Fame as a Stallion is 98.26%! With MOST of these stallions checking in at 100% foundation blood.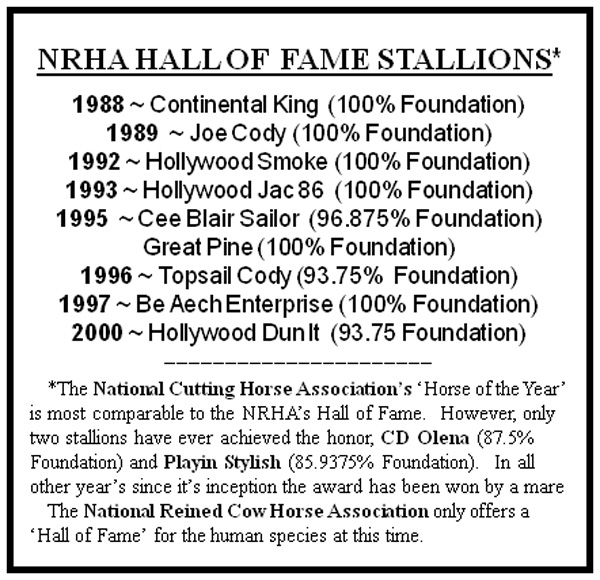 If you are interested in modern competitive bloodlines the tables above will give you a guide to the first parameter of your search . . . keeping your foundation blood percentage high enough. Venturing out of the realm of the linebred foundation horses that have been a mainstay of the foundation breeder can get confusing. So if all else fails stick with the classic Hall Of Fame reining stallions. They all make the grade.