• Photos of FQHA Registered Horses
• FQHA LIFETIME Member Websites & Contact Information.
Important: To all FQHA LIFETIME Members . . . please be sure your contact information is up to date in your ads on the advertising page. We are currently updating the FQHA LIFETIME Member Contact Page. Email the FQHA office if you are not included in the list and wish to be.
"I still get most of my hits from the FQHA!! GREAT JOB you do!! . . . Sue, Shepherd Hills Quarter Horses
FQHA members say that our LIFETIME Member Contact Page works! And your ad is free with your FQHA LIFETIME membership!
---------------------------------------------------------------------------------------
ARTICLES
• Calculating Your Horse's Foundation QH Percentage
• Definition of the Quarter Horse
• Well Known AQHA Stallions of 100% Foundation Blood
• Leading Competition Sires - Are They Foundation?
• Harlan (AQHA #32232)
• Judging Halter by Bob Denhardt
• Weigh Your Foundation Quarter Horses
• Breeding and Conformation by Murray E Fowles, DVM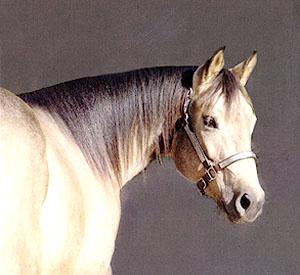 Wimpys Okie Pine, FQHA #3557
--------------------------------------
The Foundation Quarter Horse was the original great American Ranch Horse. Bob Denhardt on the founding of AQHA in 1940 . . ."We were looking for horses like Little Joe and Joe Moore, Ballymooney and Red Dog, Guinea Pig and Possum, Zantanon and King, Jack McCue and Bullet. They weren't Thoroughbreds . . .and they didn't look like Thoroughbreds. . . All were exceptionally well muscled, and it was probably this feature that first caught your eye.. . . these features were clearly characteristic of a breed. They were as unique in their conformation as they were in their ability to work cattle!" Do the above statements describe your Quarter Horse? Do you think that you might own one of these rare and unique individuals? If you do, then welcome to the Foundation Quarter Horse Association. If you can meet our high standards you have a horse you should be justifiably proud of.
The first step in registering your horse with FQHA is to request a foundation percentage calculation to determine if it is eligible. Only horses that are 85% and above Foundation Quarter Horse blood are eligible for FQHA registration. If your horse is determined to be eligible, we will email you a registration and membership application within 72 hours. FQHA is dedicated to the promotion, and preservation of Foundation bred Quarter Horses. FQHA has the highest registration requirements of any foundation association. And don't forget, we can do percentage calculations for you on horses you are thinking of buying, stallions you are considering breeding to, etc. It's best to be sure BEFORE you spend your money on another horse or breeding fee.
*Please Note: Official calculations, which are required for FQHA registration, can only be performed by the FQHA office. No one can claim an FQHA percentage on any horse unless that percentage is official and has been completed by FQHA and/or it's agents.
Order a Foundation Quarter Horse Percentage Calculation below . . .
SPECIAL PRICE:

$10 EACH!
Ends October 31st. NO LIMIT.
AQHA Horses Only.
FQHA Office Services
• Foundation Quarter Horse Percentage Calculation
• 6 Generation Frameable Pedigree
• FQHA Registration & Membership Form
• FQHA Registration Application
• FQHA Membership Application & Renewal
• FQHA Transfer Of Ownership
• Replace or Reissue FQHA Registration Papers
This site and all content is copyright© 1998-2016 FQHA©, Inc. All rights reserved
Updated 10/08/2016
Further Registration Information: Descendants of the AQHA stallion Impressive are not eligible for FQHA registration unless they have been tested N/N (Rule updated 11/21/2012). The preceding rule change is retroactive. . . .Additionally horses which have any of the following genetic disorders: Cryptorchidism, parrot mouth, or that are known to carry the gene for Lethal White Overo are not eligible for registration. We also suggest that you have your Foundation Quarter Horses tested for HERDA and GBED so that you can make conscientious breeding decisions.